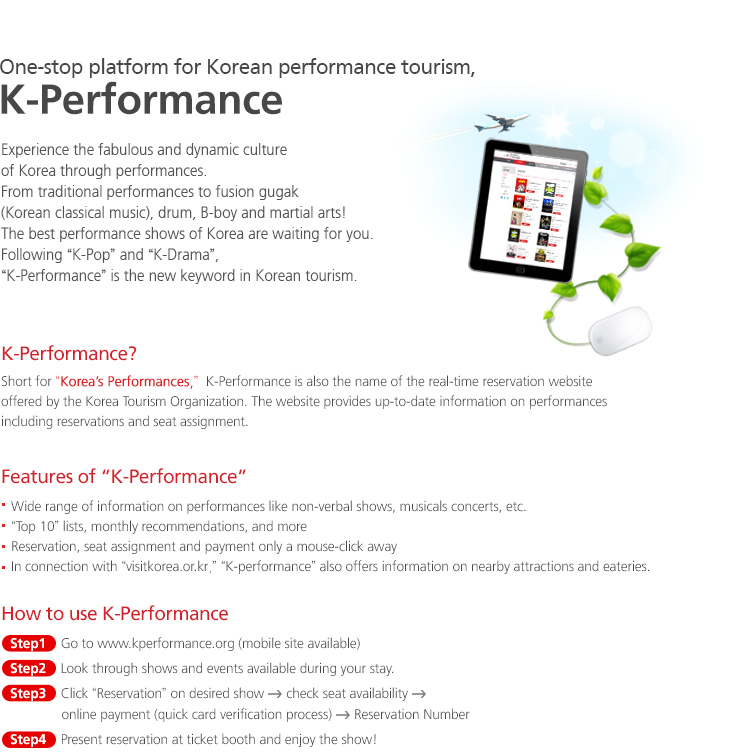 One-stop platform for Korean performance tourism, K-Performance
Experience the fabulous and dynamic culture of Korea through performances. From traditional performances to fusion gugak (Korean classical music), drum, B-boy and martial arts! The best performance shows of Korea are waiting for you. Following "K-Pop" and "K-Drama", "K-Performance" is the new keyword in Korean tourism.
K-Performance?

Short for "Korea's Performances," K-Performance is also the name of the real-time reservation website offered by the Korea Tourism Organization. The website provides up-to-date information on performances including reservations and seat assignment.
Features of "K-Performance"

Wide range of information on performances like non-verbal shows, musicals concerts, etc. "Top 10" lists, monthly recommendations, and more,Reservation, seat assignment and payment only a mouse-click away, In connection with "visitkorea.or.kr," "K-performance" also offers information on nearby attractions and eateries.
How to use K-Performance
Step1 Go to www.kperformance.org (mobile site available)
Step2 Look through shows and events available during your stay.
Step3 Click "Reservation" on desired show → check seat availability → online payment (quick card verification process) → Reservation Number
Step4 Present reservation at ticket booth and enjoy the show!