Seoul
Dongyang arts center 1
280
[Walking Tour] A tour around Dongyang Arts Center where "Laundry" is staged

2016-09-13

1,659



Tour of
Daehak-ro
where resembles "
Laundry
"
"
Laundry
"
is an original musical beloved by many for over 10 years since it premiered in 2005. It was staged in Japan in 2012 and 2015, and in China in 2016. The protagonists are Na
-
yeong, a 27-year-old newcomer, and Solongo, her Mongolian neighbor. The musical tells a heartwarming story of the everyday lives of people living in a hilltop neighborhood of Seoul. The Dongyang Arts Center, the theater where
"
Laundry
"
is being staged, is located in the heart of Korean theater in Daehak-ro, a landmark of Seoul filled with youth and passion. The Ihwa-dong Mural Village on the hill of Daehak-ro closely resembles the setting of
"
Laundry.
"
The
v
illage is also famous as a filming site of Korean
drama
s. Take a tour of Daehak-ro before or after seeing
"
Laundry
"
and the performance will impress even more.
tag : Dongyang Arts Center, Laundry, Daehak-ro, filming site, history, scenery, street art
Walking
T
our
C
ourse




10:00 Subway Line 4, Hyehwa Station

▶

50
m straight ahead from
E
xit 2
10:10 Marronier Park
12:00 Lunch

▶
the first four-way intersection 100 m along Dongsung-gil south of Marronier Park
13:00 Lock Museum

▶
exit the Lock Museum, 50
m to the right, turn right in front of Marronier Theater
15:00 Seoul City Wall (Naksan section)
17:30 Dinner
▶
go to Hyehwa Station, 80
m from
E
xit 1, turn right towards Daehak-ro 14-gil, 100
m, turn left past the parking lot, 100
m to the left
19:00 or 20:00
See
"
Laundry
"
at the Dongyang Arts Center

Marronier Park, the starting point of Daehak-ro
Daehak-ro refers to the area around Hyehwa Station where the Dongyang Arts Center staging
"
Laundry
"
and other performance arenas stand close together. The reason for this can be found in Marronier Park. The park was the
campus of the College of
Liberal Arts and Sciences of Seoul National University until 1975. When the university moved to its current location, the park was created in its place. The old marronier tree from the former Seoul National University campus is evidence of its past. It is the central plaza of Daehak-ro where busking, outdoor performances, and other events are often held. It is an ideal rest area for travelers to Daehak-ro.
●
1 Daehak-ro 8-gil, Jongno-gu, Seoul
●
Open year-round
●
Free entry
●
02-2148-1856 (Jongno-gu Tourism and Sports Division)
Tip for foreign travelers
Marronier Park hosts the
"
Marché @ Hyewha
"
market from 11 am to 4 pm on the second Sunday of every month. The urban market offers farm-direct produce and features performances that create a modest yet festive atmosphere.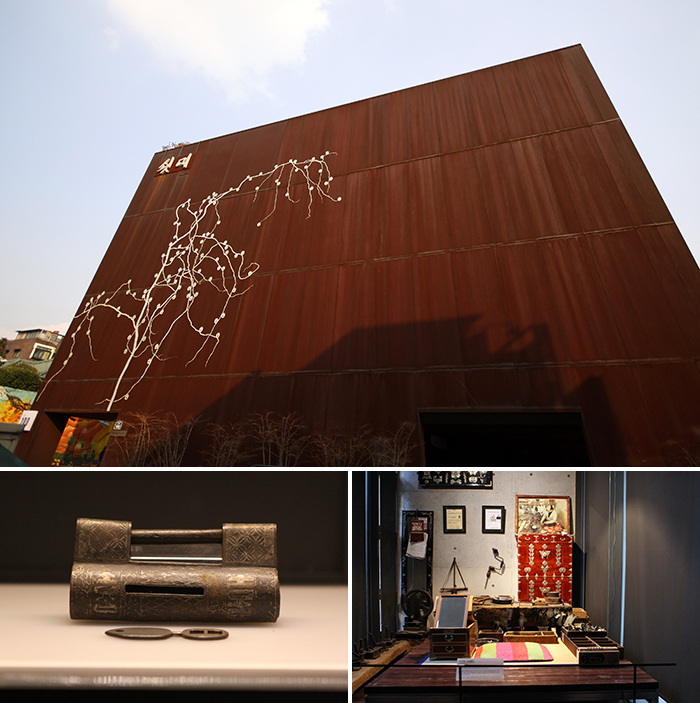 Lock Museum, a chronicle of locks in Korea
The Korean name of the museum, "s
oetdae
"
is a Korean vernacular word that means
"
lock.
"
The Lock Museum offers displays of unique keys and locks from various countries around the world, including Korea. The exhibition rooms feature iconic
"
ㄷ
"
shaped lock
s
from the Joseon period along with animal-shaped locks, wooden lock boxes, and locks from Africa, Tibet, and India. Visitors can also try making a yeolsoepae key ring or a fish lock. The Lock Museum building was designed by renowned Korean architect Seung Hyo-sang.
"
Hangeul Ivy,
"
a work by visual designer Ahn Sang-s
oo
based on Hangeul, is an eye-catching feature on the external wall.
●
100 Ihwajang-gil, Jongno-gu, Seoul
●
10:00
-
18:00, closed Mondays
●
Adults,
college
students 4
,
000 KRW, children, adolescents 3
,
000 KRW, groups (reservations for 20 people or more) 1
,
000 KRW discount
●
02-766-6494 / lockmuseum.co.kr
Tip for foreign travelers
Make sure to take a look at the tools used by Kim Geuk-cheon (Important Intangible Cultural Heritage No. 64)
, a
master crafter
of metal pieces for wooden furniture,
and the workshop of Lee Gyeong-no (State-designated Cultural Heritage Repair Technician No. 938)
, a
master crafter
of gold/silver
wire inlay
on metal surface
.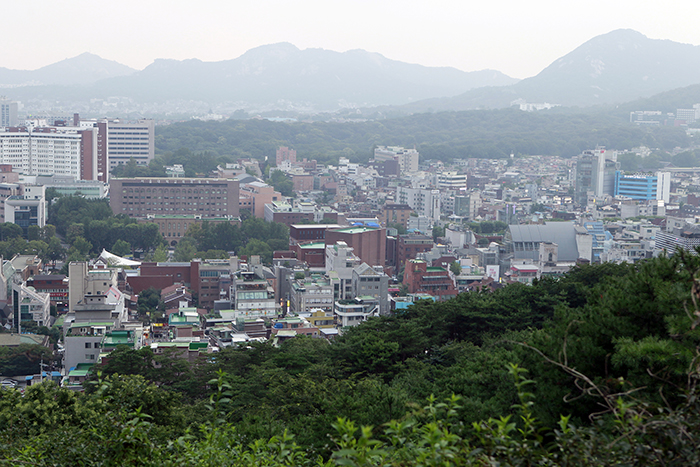 Seoul City Wall (Naksan section), living proof of the history of Seoul
On the Naksan side
of the hill
of Daehak-ro is
the
Ihwa Mural Village. In the past, it was home to small sewing factories that supplied goods to Dongdaemun Market on the other side of Naksan
Mountain
. Seoul City Wall is located at the boundary. It is a gem of Seoul that was previously hidden behind the Ihwa Mural Village. The city of Seoul was built inside a fortress connecting Buk
h
aksan, Inwangsan, Naksan
,
and Namsan Mountains. The hill behind Daehak-ro is the Naksan section. Remains of the fortress
of
Seoul City Hall are relatively clearly visible in this area. The fortress trail features breathtaking views of Daehak-ro and downtown Seoul
around
Dongdaemun
Gate
.
●
Around
Naksan-gil, Jongno-gu, Seoul
●
Open year
-
round
●
Free entry
●
02-2148-1856
(Jongno-gu Tourism and Sports Division)
Tip for foreign traverlers
Dongdaemun Market, Seoul
'
s iconic fashion town, is located opposite Naksan Mountain on the other side of Seoul City Wall from Daehak-ro. You may like to watch the 4 pm performance of
"
Laundry
"
and then continue your journey towards Dongdaemun Market past Seoul City Wall.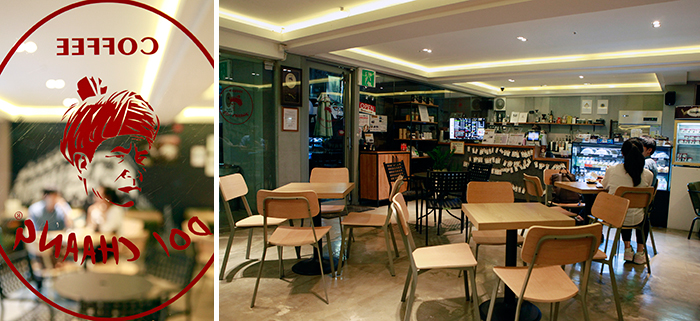 Rest area inside (next to) the performance
venue
: Doi Chaang Coffee and Chinese movie theater
Doi Chaang Coffee is located in the lobby of the Dongyang Arts Center. Doi Chaang is the name of a coffee-growing village in Chiang Rai, Thailand, which produces the beans used here. The Center also has a Chinese movie theater. Enjoy Chinese movies for free or for 5,000 KRW.
Accommodations near the performance
venue
▷
Eugene House: 36 Hyehwa-ro 12-gil, Jongno-gu, Seoul, 070-8831-3338/02-741-3338
▷
Star Hostel: 25 Daehak-ro 2-gil, Jongno-g
u
, Seoul, 070-8128-7888
More Info
▷
Benikea Noble Hotel: 13-3 Yulgok-ro 6-gil, Jongno-gu, Seoul-si, 02-742-4025
More Info
Restaurants near the performance
venue
▷
The B
o
b:
Set menu with s
oy
pulp
stew, 33 Daehak-ro 9-gil, Jongno-gu, Seoul, 02-764-9288
More Info
▷
Naksan Garden: Bulgogi, 145 Dongsung-gil, Jongno-gu, Seoul, 02-742-7470
▷
Ppuri on the Plate: Vegetarian dishes, 31 Changgyeonggung-ro 26-gil, Jongno-gu, Seoul, 070-4133-8126
Written and photos by: Park Sang-jun (travel writer)